About 15 miles northeast of Athens in Stewart, Ohio, sits the small town of Kilvert, formerly known as Tablertown, with a rich history that stretches back to the 1800s. Tucked to the side of one of the town's curvy streets is the log-cabin-style home of David Butcher.
Butcher has devoted much of his time to preserving the history of Kilvert and sharing it with others. His passion for history started at a young age. Davidremembers helping his relatives go through old photos and family documents before he was old enough to realize what they were. As a teenager, he explored the town, interviewing community members about their lives and their family history. Today, he works to preserve that history and bring attention to it.
Butcher can trace his family history back to Michael Tabler, whose family emigrated to America from Germany in 1732, and Hannah, who was a slave on his family's plantation in Virginia.
"I looked down at my grandfather's grave and I realized my grandfather owned slaves," Butcher said. "That was a weird feeling to me. I didn't realize that. I just knew him as, you know, like my fifth great-grandfather but to look at your grandfather and say, 'man, he owned slaves', that's amazing."
A plaque outside the Kilvert Church describes how Michael Tabler settled in the area that became Tablertown. It reads:
Son of a plantation owner in Berkley County, Virginia, Michael Tabler fathered six children (John 1-4-1810, Jes 9-13-1811, Michael 2-17-1812, William 2-13-1814 and Maria 6-16-1816) by Hannah, a slave. Eventually, driven by 'The Affection' he developed for them, he took them to Ohio County, (West) Virginia where, in January 1830, he emancipated them. Circa 1830 Tabler brought his family to Ohio – a free state – and, in 1836, purchased fifty acres of land from Revolutionary War veteran Francis and wife Sarah Wickham Munn. Though the Tabler property would grow, the community which developed on the acreage was known as Tablertown until coal mine operator, Sam Kilvert, had it named after himself.
While Tabler was able to take his six children to Ohio with him, it isn't clear if Hannah made the journey as well.
What is clear is that Tabler brought other former slaves to Ohio, where they could buy their own land and escape the strict laws and regulations that made it difficult for free slaves to live in Virginia. These former slaves, along with white settlers and Native Americans, intermarried and created a unique genealogy.
Over the years, Tablertown grew into a vibrant community, prospering as a coal and mining town in the mid-1800s. The railroads provided a vital connection to larger towns and cities in the state, but the town started to decline as the mines started to close.
In 1937, disaster struck.
Butcher has tried to use the town's history to draw more people into the area.
In 2003, he showcased an exhibit in the Kennedy Art Museum, titled People of Color,which included his family history as well as tools and other artifacts his ancestors made.
"It ended up being one of the largest-attended exhibits at that time they ever had, and at some point we would like to recreate that back here again on a permanent basis," Butcher said.
Butcher says sharing his town's history through exhibits like People of Color takes on extra significance because until the 1960s, the history of the town existed only as oral stories passed on from one generation to the next, with little to no supporting documentation or records. In that decade, a community member found a letter written in response to an inquiry by a Virginia relative of Michael Tabler, who was asking about Tabler and his six slave children whom he took into Ohio. In that same decade, David's uncle, Al Adams, also found the manumission document, an official paper that proved Michael had freed his six slave children.
"That was the important part of our family history," Butcher said. "For a hundred and fifty years it was just an oral history, but we actually found the document where he emancipated his children."
Butcher continues what his uncle started and works to preserve and share the history of his family. He has collected old family photos, maps, and documents, and showcases them in a large, multipurpose room in the Kilvert Community Center.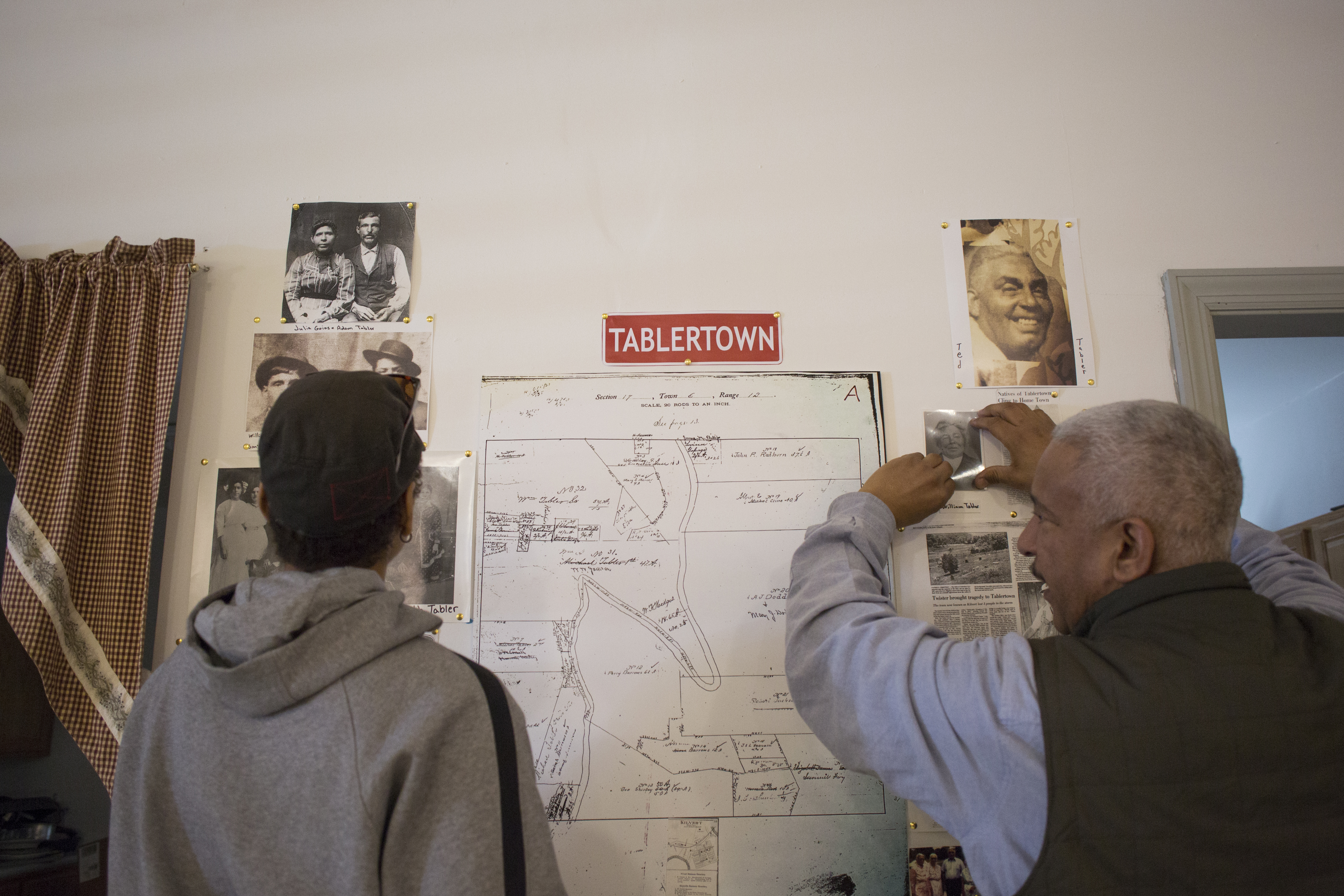 "This is a start. This isn't by any means a finish," Butcher said, in reference to the display inside the community center.
One thing Butcher, along with others in the Kilvert community, are trying to figure out is what happened to Hannah after Michael Tabler freed their children.
"There are a lot of people working on that right now, and I feel that we're probably close to finding out. I don't believe she made it to Kilvert or Tablertown because I'm certain if she had passed before Michael, he would've saw that she would've had a more beautiful stone than he had," Butcher said. "I think it's amazing because here was a woman born in slavery that had at least six children and somehow convinced Michael to free her children and bring them to Ohio."
Butcher also hopes to change the town's name back to Tablertown. He has discussed it with other community members and will eventually have to go through the state to get it changed.
"When I'm going around in the community now I ask people how they feel, because it wouldn't change the mailing address because we all have Stewart mailing addresses now," Butcher said, "and I haven't run into anybody who doesn't like the idea to have it changed back to Tablertown."